You Are Here »
Home » Ghana Gospel» Micheal Stuckey ft Rundatrax – Ike Chineke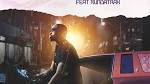 American Contemporary Worship Artist,Micheal Stuckey has brought fire to this new Igbo track, Ike Chineke – featuring Nigerian-born Atlanta-based producer, Rundatrax.
Michael Stuckey is renowned for his unique classic sound with some "old school swag" and now adding his fourth African language, "Igbo" to his profile, the US-based singer has more to offer to his Nigerian and Global audience.
A song of great passion and heavy declaration of God's power and promises, this track was written by Michael Stuckey. According to him, the new track was birthed during a time he felt generational curses over his family would follow him, after losing 4 Uncles to tragic issues to being involved with gun violence, drugs, and alcoholism.
At that moment, Michael looked into the mirror and said "The Promise Of God is on you and the Power of God is on you" which led to "Ike Chineke – You will live.
Get your copy below and enjoy don't forget to share.